Film
Annette is the 6th of Leos Cara's feature films (these include Les amants du Pont Neuf and Holy Motors)
The plot takes place in contemporary Los Angeles and tells the story of Henry, a stand-up comedian with a ferocious sense of humour, and Ann a singer of international renown. In the spotlights they are a perfect couple happy and glam. The birth of their first child ANNETTE, a mysterious girl with an exceptional destiny will turn their lives upside down.
Based on an original idea by the cult rock band The SPARKS and featuring a soundtrack composed by the duo, Annette is a dark and strange musical comedy starring Adam Driver, Marion Cotillard and Simon Helberg. The production is from CG Cinema and is presented on the opening of the 74th Cannes Festival on 6th July 2021. The film came out simultaneously in the cinemas.
In this prestigious launch the truth about the main character of this exceptional creation will be revealed, which is, that it is played by…… a puppet.
It is the company LA PENDUE that has created the character of this fictitious being with Leos Carax. From a photograph of a little girl, Estelle Charlier has invented its face and its looks, and Romuald Collinet has brought it to life with the making of this "Super puppet".
This incredible artistic adventure along with the intensity of the collaboration with such an inspired film maker as Leos Carax, and all the many technical challenges to overcome, have led to a documentary and an exhibition.
Making of
Making of (22 min.)
Gisueppe Valentino
Prod. CG Cinéma
Documentary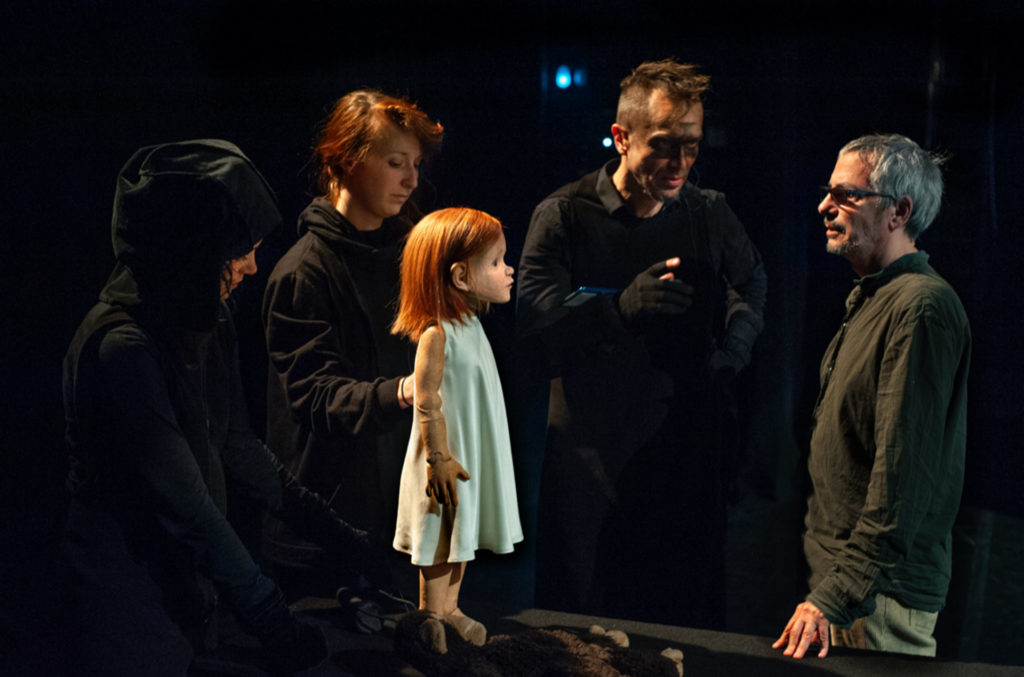 Baby Annette, à l'impossible ils sont tenus
Sandrine Veysset's documentary on the puppeteers' work during the filming of Annette has been broadcasted on FRANCE 3 on 1st September 2021. The documentary is an evocative, poetic depiction of the company LA PENDUE in its daily life, its rituals and the many challenges through which Leos Carax's diabolical imagination took them.

52 min.
Prod. CG Cinéma, La Huit production, Sancho & Cie, France télévisions and France 3 Grand Est
Exhibition
Genèse d'une créature
Exibithion from 21st of July 2021 to 3rd of January 2022 at "Musée de l'Ardenne de Charleville-Mézières"
Conception Estelle Charlier, Romuald Collinet and team.
The exhibition presents Annette, a non-human actress from her birth to six years old. It discloses techniques, gives away secrets, and divulges some formulas. It sets the scene of the creative steps in the making of this character that was generated by the junction of two universes: The poetic imagination of Leos Carax and the erratic logic of the company LA PENDUE.
Partners: Ville de Charleville-Mézières and Musée de l'Ardenne.
Production Nuit du Jour, Coproduction Festival Mondial des Théâtres de Marionnette de Charleville-Mézières, Compagnie la Pendue and Théâtre de l'Homme Ridicule Support of Conseil Départemental des Ardennes and DRAC Grand-Est. With exclusive photos from the set of Annette by Kris Dewitte.
Du mardi au vendredi de 9h30 à 12h30 et de 13h30 à 18h et les samedis et dimanches de 11h à 13h et de 14h30 à 18h. Pendant le FMTM, du vendredi 17 septembre au dimanche 26 septembre 2021 de 9h30 à 19h.
Renseignements : 03 24 32 44 60 / musees@mairie-charlevillemezieres.fr
Entrée gratuite.